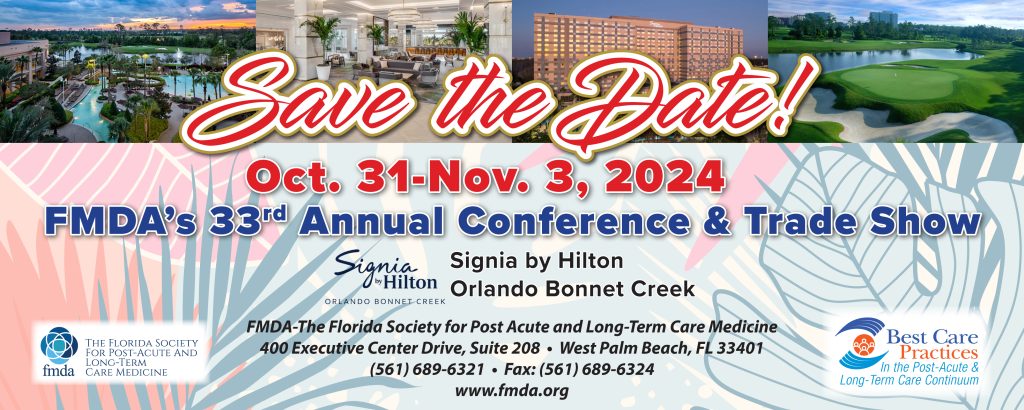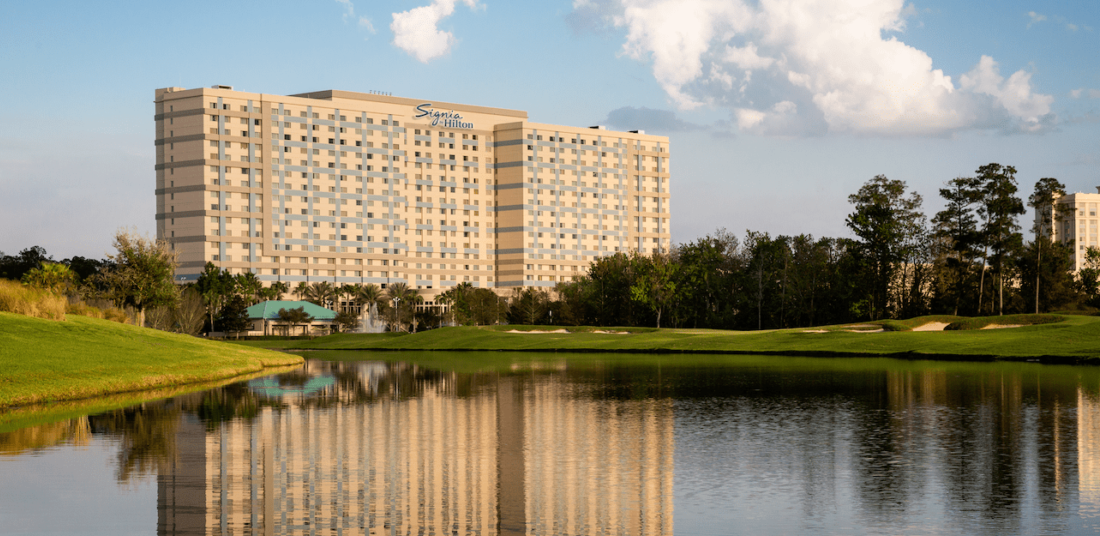 FMDA's 2024 Annual Conference visits Signia by Hilton Orlando Bonnet Creek, Oct. 31-Nov. 3, 2024!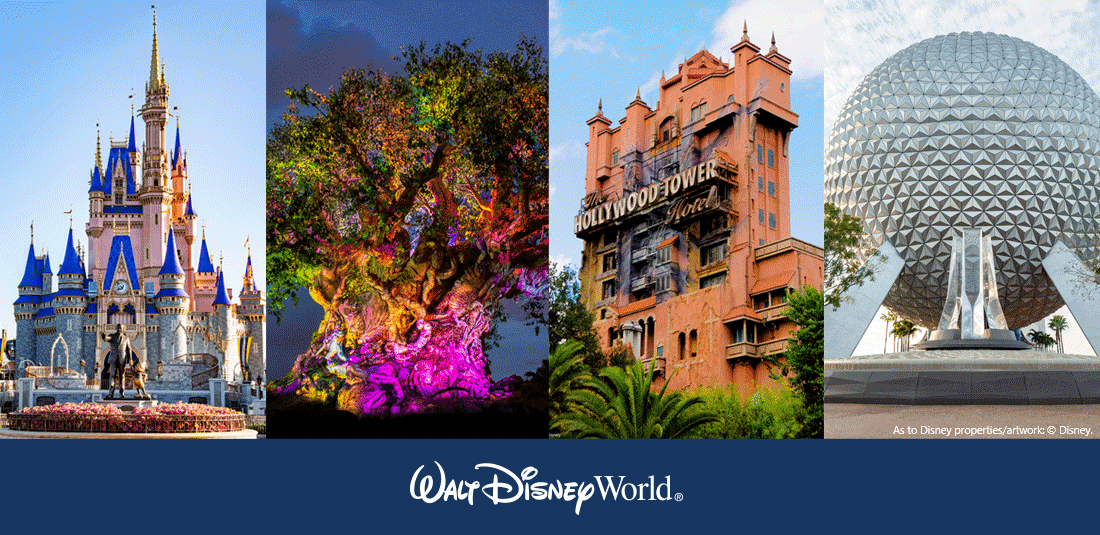 Convention attendees – take advantage of special meetings and convention ticket offers!

FMDA – The Florida Society for Post-Acute and Long-Term Care Medicine is the official state chapter of AMDA – The Society for Post-Acute & Long-Term Care Medicine, and a Specialty Society of the Florida Medical Association. It is based in West Palm Beach, Florida. FMDA represents nearly 500 medical directors, attending physicians, physician assistants, and advanced registered nurse practitioners in Florida's post-acute care continuum including sub-acute care, hospice, skilled nursing, and assisted living facilities, as well as in continuing care retirement communities. The mission of FMDA is to promote the highest quality care as patients' transition through the long term care continuum. FMDA is dedicated to providing leadership, professional education and advocacy for the inter-professional team.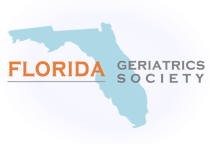 Florida Geriatrics Society (FGS) is a not-for-profit state organization with interest in scientific, educational and academic activities to the entire geriatric care team, who can render optimal care for older adults. In addition to this winter meeting, FGS holds an annual medical convention to provide both CME and CEU credits for physicians, nurse practitioners, registered nurses, licensed practical nurses, psychologists and social workers. Members of the Board of Directors of FGS hold representation from all the medical schools in the state of Florida. It encourages in‐training fellows, residents, and medical students' participation. FGS is also a Specialty Society of the Florida Medical Association.
Florida Chapters – Gerontological Advanced Practice Nurses Association (FL-GAPNA) GAPNA was founded in 1981, by a small group of GNPs with the intention of offering the first continuing education conferences designed specifically to meet the needs of advanced practice nurses. Currently, GAPNA represents nearly 10,000 certified advanced practice nurses who work with older adults in a wide variety of practice settings. GAPNA is the organization of choice for advanced practice nurses who want to pursue continuing education in gerontological care and who seek peer support from experienced clinicians. The FL-GAPNA Chapter and the Florida Gulf Coast Chapters both operate in the state of Florida.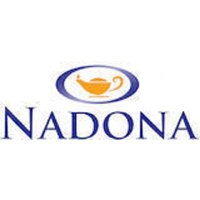 National Association Directors of Nursing Administration (NADONA) – Since 1986, NADONA has been the leading advocate and educational organization for DONs, A DONs and RNs in Long-Term Care (LTC). NADONA/LTC was founded by dedicated LTC professionals, and its board of trustees still consists of LTC professionals. NADONA understands daily challenges, and are here to provide nurses with the tools they need for professional success.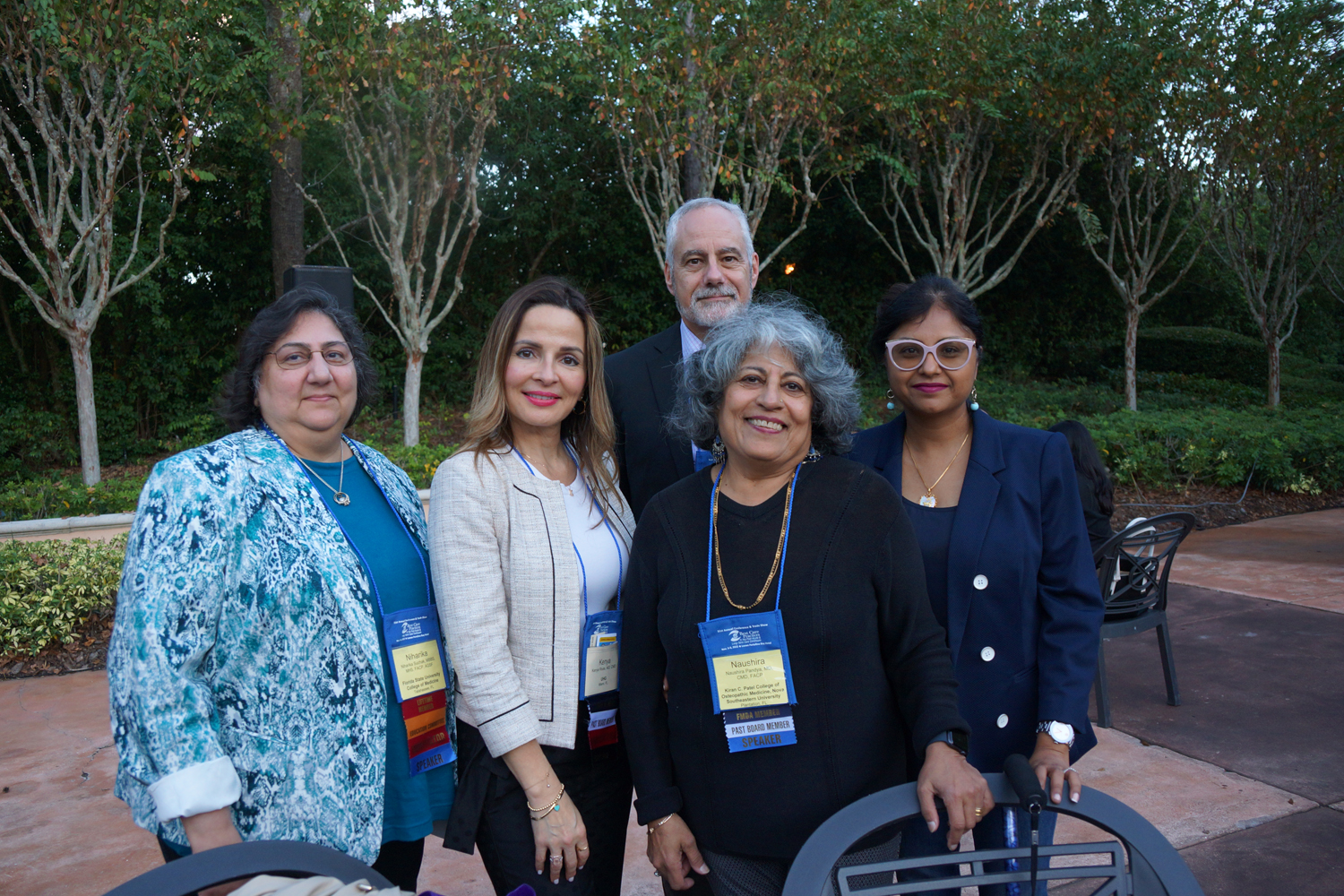 Scientific Poster Presentations
Submissions from Physicians, Pharmacists, Physician Assistants, and Nurse Practitioners Now Accepted Online
FMDA is hosting its 21st Annual Poster Session during the Best Care Practices Conference, Oct. 31-Nov. 3, 2024. The first 10 applicants who are accepted by the review committee will receive complimentary registration to the 2024 conference (only one applicant per poster presentation will be considered).
Poster sessions provide an opportunity for physicians, pharmacists, advanced practice nurses, and physicians assistants to share the results of research, best practices, and outcomes with colleagues. The sessions are visual presentations using diagrams, charts, and figures. Poster presentations may be on any aspect of the following categories: clinical care, pharmacology of medicine, medical education, history of medicine, medical direction, medical care delivery, medical ethics, economics of medicine, and pediatric long-term care — and in any post-acute and long-term care setting."
Product Theaters
Due to the success of previous years' efforts, we are once again offering opportunities for interested organizations to hold non-CME/CPE/CE educational programs in conjunction with this annual program. We expect to attract more than 250 physicians, advance practice nurses, pharmacists, physician assistants, directors of nursing, and other senior health care professionals seeking the latest in clinical and practice-oriented information.
Sign up today and host a Product Theater(s) to reach your customers directly, effectively, and affordably. Don't miss this opportunity to provide a unique value-added service to key decision-makers in long-term care!
 From Novice to Expert: Rapid Fire Presentations
FMDA invites you to submit Abstract proposals for Best Care Practices in the Post-Acute & Long-Term Care Continuum 2024, Oct. 31-Nov. 3, 2024, at Signia by Hilton Orlando Bonnet Creek.
Based on the success of previous TED Talk-type presentations, we are inviting medical, nursing, and pharmacist practitioners, fellows, residents, and students to a 60-minute session where each one will have 5- to 10-minutes to deliver their presentation. Abstracts are TED-like talks on topics related to research, health care delivery, medical/nursing/pharmacist ethics, etc., in the PALTC continuum. Submissions should be based on the areas of interest to nursing home medical directors, physicians, advanced practice nurses, physician assistants, consultant pharmacists, and other professionals with issues related to PALTC.
The top scoring Rapid-Fire Presentation will be designated Abstract of the Year and Receive $500.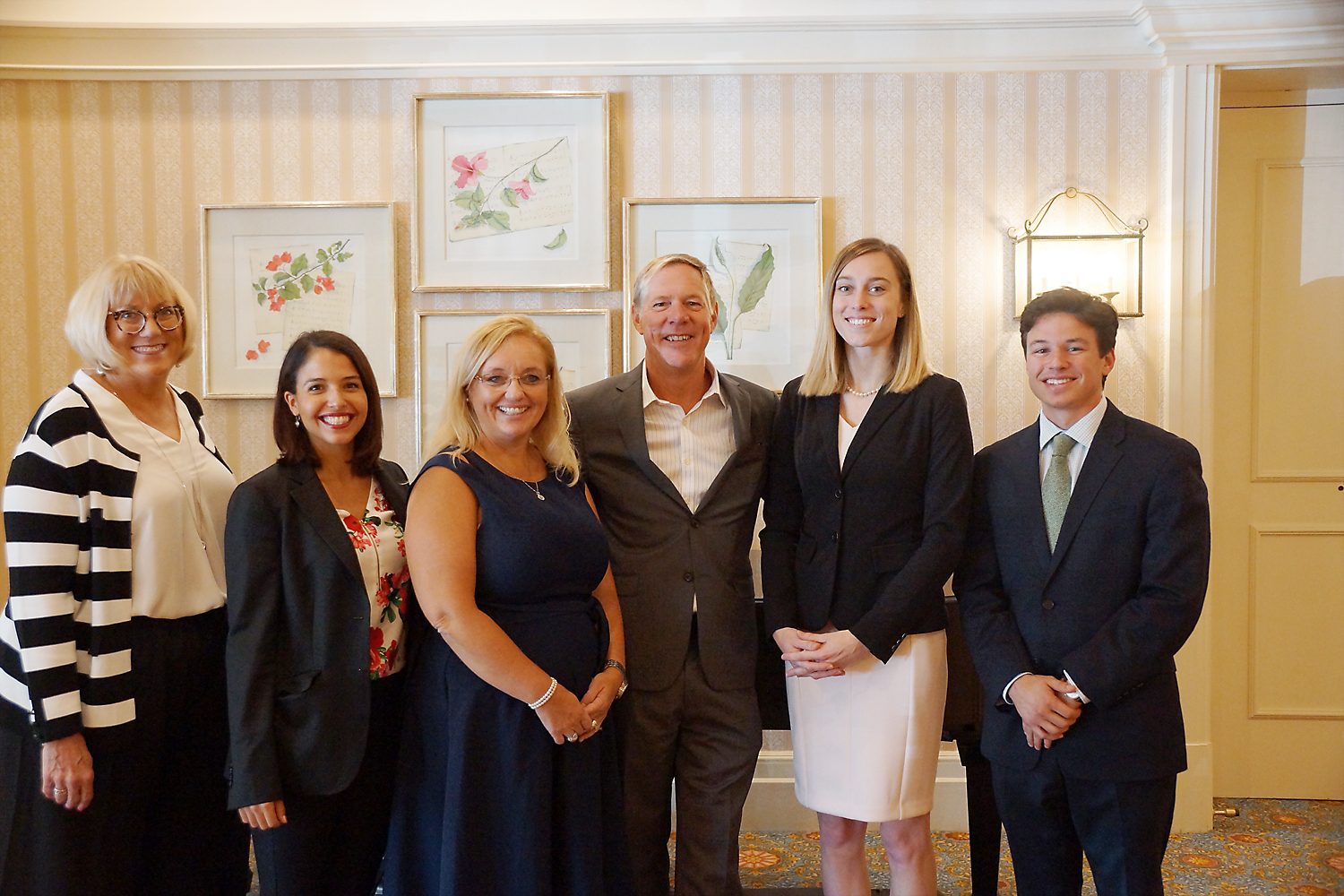 Hotel Reservations
HOTEL RESERVATIONS (Coming Soon)
BUY DISNEY TICKETS
FMDA has reserved a block of rooms at
Signia by Hilton Orlando Bonnet Creek
, 14100 Bonnet Creek Resort Lane, Orlando, Florida 32821. The group rate is
$249
single/double occupancy, plus
$25 resort fee
; discounted self-parking
($25/day)
and discounted valet parking
($35/day)
for all attendees over the dates of the program; complimentary Wi-Fi service; and no daily resort fee. Or you can reserve a Deluxe room at the
Waldorf Astoria Orlando
(on the same property) for
$345
per night plus the resort fee. To make a reservation, please call Hilton Reservation Center at
(407) 597-3600
, and mention you are attending FMDA – The Florida Society for PALTC Medicine / Best Care Practices conference. To guarantee rate and room availability, you must make your reservations no later than
Sept. 25, 2024
. This special group rate will be applicable three (3) days prior to and three (3) days following the main program dates, subject to availability. You may also reserve your hotel room by clicking the button above.